U.S. Military Plans to Battle Russia, China and Iran's 'Most Disturbing' Influence in Venezuela
The head of the Pentagon's Southern Command warned that Russia, China and Iran were expanding their influence in Latin America, particularly in Venezuela, where they support a government the United States seeks to depose.
In his testimony to the Senate Armed Services Committee, Southern Command chief Air Force Admiral Craig Faller identified Moscow, Beijing and Tehran as the primary international obstacles to Washington's interests as the trio backed Venezuelan President Nicolás Maduro in the face of a challenge posed by self-proclaimed interim leader Juan Guaidó. The National Assembly head declared himself acting president in January and was almost immediately recognized by the U.S., which cut ties with Maduro and has attempted to isolate him globally.
"Russia, in their own words, is protecting their 'loyal friend,' to quote, by propping up the corrupt, illegitimate Maduro regime with loans and technical and military support," Faller said. "China, as Venezuela's largest single-state creditor, saddled the Venezuelan people with more than $60 billion in debt and is exporting surveillance technology used to monitor and repress the Venezuelan people. Iran has restarted direct flights from Tehran to Caracas and reinvigorated diplomatic ties."
"Along with Cuba, these actors engage in activities that are profoundly unhealthy to democracy and regional stability and counter to U.S. interests," he added, calling for the "right, focused and consistent military presence" to counter these countries' "most disturbing" growing influence in the region.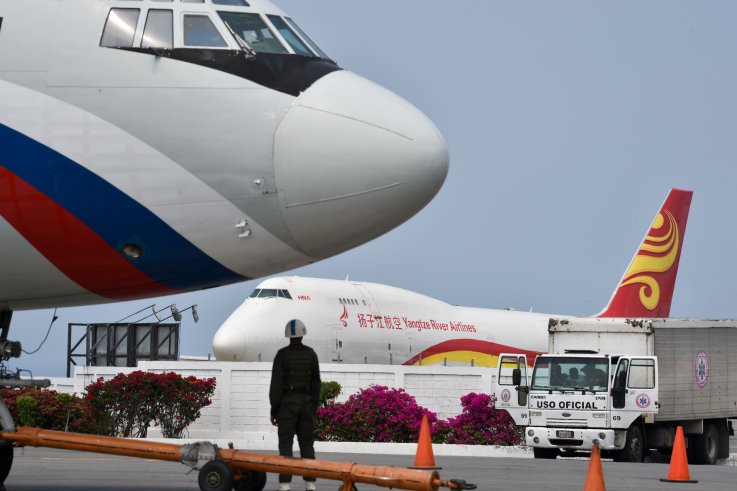 A Russian Ilyushin Il-62M air force plane is seen next to a Chinese Yangtze River Express Airlines Boeing 747 cargo plane loaded with medicines and disposable medical supplies at Simon Bolivar International Airport on March 29 in Maiquetia, Venezuela. A U.S.-sanctioned Iranian Mahan Air plane also came to Caracas in a bid to restart direct flights to and from Tehran.
YURI CORTEZ/AFP/Getty Images
The nearly six-month political crisis in Venezuela has polarized the international community, with dozens of countries recognizing either Maduro or Guaidó as Venezuela's head of state, a position still occupied by the former in the eyes of the United Nations. The U.S. has managed to rally many regional countries in backing Guaidó, but others such as Bolivia, Cuba, Mexico, Nicaragua and Uruguay have held out in favor of Maduro.
Russia, in particular, has thrown its weight behind the socialist leader, whose country has witnessed severe economic hyperinflation, goods shortages and a mass exodus of refugees. A day after Faller's testimony, Russian Deputy Foreign Minister Sergei Ryabkov protested at the U.S.' threats of military moves in Venezuela and Washington's depiction of his Moscow's relationship with Caracas, which he called "one of our most important partners in the strategic sense and also an ally."
"We are concerned about a continuous melody from Washington, where there is a tendency to talk about all options being on the table and nothing can be excluded. That deliberately creates a sense of uncertainty, of what is possible and what is not in terms of U.S. participation," Ryabkov told Spanish newspaper El Pais on Wednesday.
"We are witnessing a constant stream from the U.S. that is falsely interpreting our stance or even providing the international community with misinformation," he added. "And it is not the issue of wrongful assessment of where Russia is, what it does or wants. This is an attempt to paint an image of Russia as the bad boy in class."
The U.S. has a decades-long history of intervention in Latin America and critics have linked the current crisis to Washington's historic attempts to stamp out leftist currents in the region. As with Russia, China and Iran have also defended their close relations with Maduro as legitimate and have accused the U.S. of hypocrisy for attempting to expand its presence south of its borders.
Hawkish statements have continued to appear from the likes of Secretary of State Mike Pompeo and White House national security adviser John Bolton, who on Tuesday called out Venezuelan Defense Minister Vladimir Padrino on Twitter, but their boss has recently had less and less to say on the subject. President Donald Trump, who once regularly tweeted on Venezuela has only mentioned the country in passing as of late, especially since Guaidó's failed uprising in late April and early May.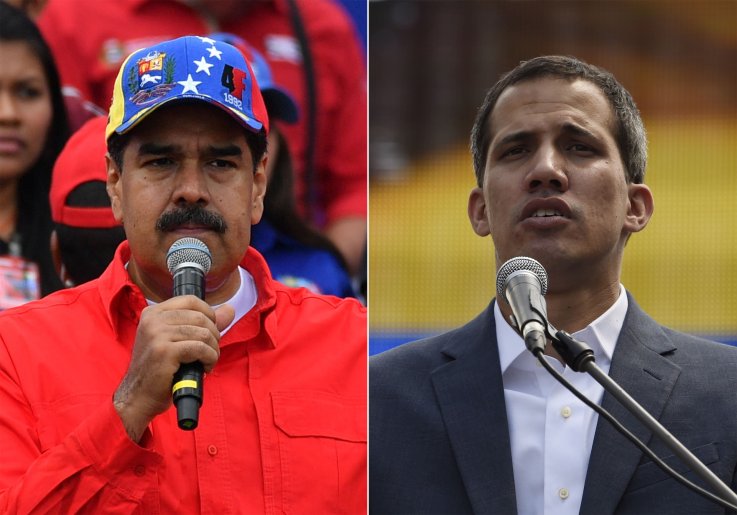 Venezuelan President Nicolás Maduro, left, and opposition leader Juan Guaidó deliver speeches during separate gatherings with their respective supporters in Caracas, Venezuela, on February 2.
YURI CORTEZ/JUAN BARRETO/AFP/Getty Images
Around the same time as Guaidó unsuccessfully rose up against Maduro, the White House shifted its focus toward Iran, another oil-rich nation hit by U.S. sanctions since the administration abandoned a 2015 nuclear deal still supported by Russia, China and even U.S. allies in Europe.
Guaidó has sought military assistance from the Pentagon, but with his international support waning, the opposition leader has entered into talks with Maduro, whom he insists would have to leave as part of any negotiated settlement. With heavy U.S. sanctions still imposed on Venezuela and Iran, two founding nations of the Organization of the Petroleum Exporting Countries (OPEC), the 14-member oil and gas group's chief called for a swift resolution to the market unrest.
"For us, we will welcome a resolution of the issues that are at stake between these countries and the US. Sanctions distort markets and further complicates our efforts with non-OPEC members to maintain stability," OPEC Secretary-General Mohammad Barkindo told reporters, according to Nigerian newspaper This Day.
"These geopolitical tensions are inimical to stability across the world and we look forward to world leaders to continue to do their best to ensure that conflicts on trade and military are avoided, he added. "The world needs peace and stability to ensure growth and development."
Published in Newsweek 7/13/2019